Coming up right after NoWar2021, which nobody should miss, I've got this webinar I'd like to invite you to:
A World Beyond War or No World at All
Join me online: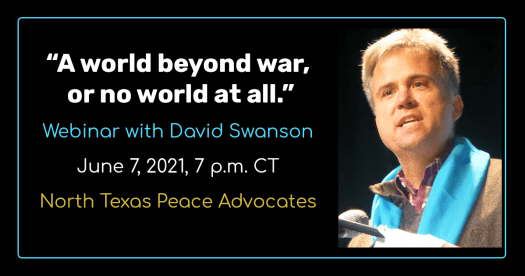 You can forward this email to friends and people can join this list here.
Please support David Swanson's work by donating at http://davidswanson.org/donate or by check to David Swanson, 513 E Main St #1484, Charlottesville, VA 22902.
David Swanson is an author, activist, journalist, and radio host. He is director of WorldBeyondWar.org and campaign coordinator for RootsAction.org. Swanson's books include War Is A Lie. He blogs at DavidSwanson.org and WarIsACrime.org. He hosts Talk Nation Radio. He is a 2015, 2016, 2017, 2018, 2019 Nobel Peace Prize Nominee. Swanson was awarded the 2018 Peace Prize by the U.S. Peace Memorial Foundation. Longer bio and photos and videos here. Follow him on Twitter: @davidcnswanson and FaceBook, and sign up for: Activist alerts. Articles. David Swanson news. World Beyond War news. Charlottesville news.