These books are wonderful gifts
These three books make wonderful reading and wonderful gifts:
A Global Security System: An Alternative to War (AGSS) is World BEYOND War's award-winning blueprint for an alternative security system – one in which peace is pursued by peaceful means.
Learn more about AGSS and get your copy (pdf, ebook, audiobook, print edition) here.

---
This Peace Almanac lets you know important steps, progress, and setbacks in the movement for peace that have taken place on each day of the year.
Learn more and get the PDF or print edition here.

---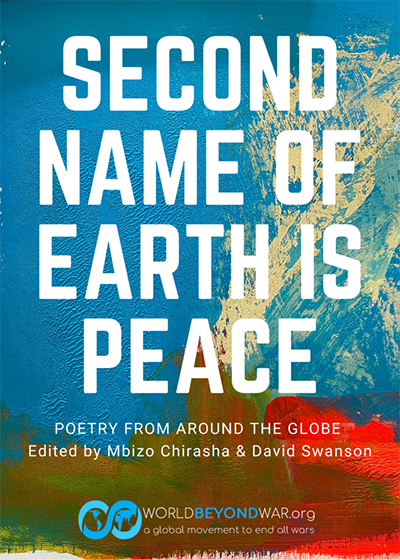 A new book has been published by World BEYOND War called Second Name of Earth Is Peace, edited by Mbizo Chirasha and David Swanson, and including the work of 65 poets.
Learn more and get the PDF or print edition here.
---
World BEYOND War is a global network of volunteers, activists, and allied organizations advocating for the abolition of the very institution of war. Our success is driven by a people-powered movement – support our work for a culture of peace.
Opt-in for important, timely mobile messages.
World BEYOND War 513 E Main St #1484 Charlottesville, VA 22902 USA
Privacy policy.
Checks must be made out to "World BEYOND War / AFGJ" or we can't deposit them.
Switch to receiving only one e-newsletter every two weeks.
Should giant war-profiteering corporations decide what emails you don't want to read? We don't think so either. So, please stop our emails from going into "junk" or "spam" by "white listing," marking as "safe," or filtering to "never send to spam."