July 2020
We Hibakusha [A-bomb survivors] call the atomic bombs 'weapons of the devil.' We cannot allow even a single bomb to exist on this planet…. The pain of the victims of that day must not be forgotten.
                                 —Reiko Yamada, Hiroshima A-bomb survivor
Faced with the terrifying perspectives which are opening up to humanity, we can perceive even better that peace is the only battle worth waging. It is no longer a prayer, but an order which must rise up from peoples to their governments—the order to choose finally between hell and reason.
                                 —Albert Camus, August 6, 1945
No More Hiroshima! No More Nagasaki!

As we approach the 75th anniversaries of the U.S. atomic bombings of Hiroshima and Nagasaki on August 6th and 9th, let us be aware that today, nearly 14,000 nuclear weapons, most an order of magnitude more powerful than the bombs that destroyed Hiroshima and Nagasaki, continue to pose an intolerable threat to humanity, and the U.S. is poised to spend nearly two trillion dollars over the next three decades to maintain and upgrade its nuclear arsenal. All the nuclear-armed states are engaged in nuclear weapons "modernization." Read more; learn about many opportunities for action and view Abolition 2000's calendar of international events.
Educate Yourself and Others!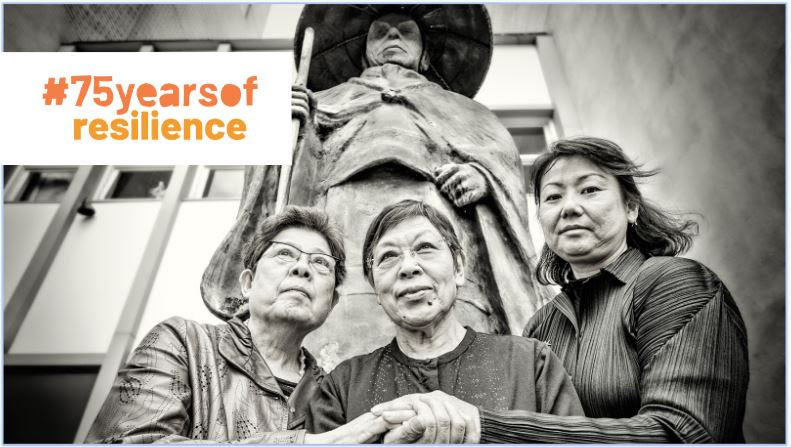 UFPJ has collected a wide range of critical perspectives on the U.S. atomic bombings of Hiroshima and Nagasaki, including testimonies of nuclear survivors, the long legacy of racism and full spectrum dominance that informed the use of nuclear weapons, and the Japan Council against A and H Bombs' (Gensuikyo's) pointed rebuttal of Trump's message on the anniversary of the Trinity nuclear test. Read the statements and analysis.
Hiroshima and Nagasaki: Webinars With Vital Perspectives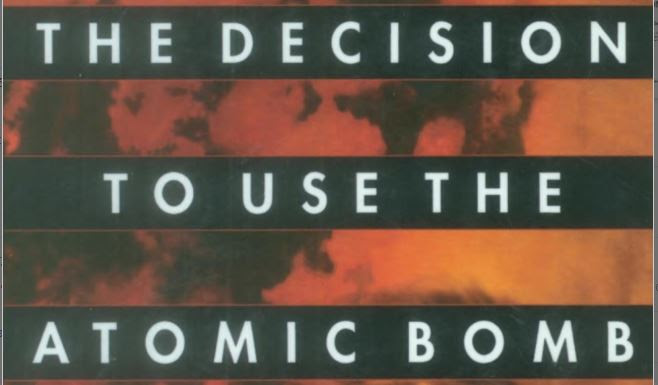 The atomic bombings have been the subject of crucial and incisive analysis by scholars and activists deeply knowledgeable about the history and the imperative of promoting a just and nuclear-weapons-free world. To hear from them about deconstructing the myths surrounding atomic weapons and the true story of the U.S. decision to use the bomb, and to register for the upcoming webinar, "100 Seconds to Midnight. What Does This Mean? What Can We Do?" click here.
Ban Nuclear Weapons Now!

UFPJ Coordinating Committee Member, Thea Paneth had a personal reflection posted on the Common Dreams website, "As the daughter of a nuclear victim I raise my voice on this upcoming anniversary to say with the Hibakusha (survivors of the original N-blasts) 'nuclear weapons must be abolished.'"
Mayors for Peace Promotes Global Partnership for a World Free from Nuclear Weapons
Mayors for Peace, led by the Mayors of Hiroshima and Nagasaki, 
is working for a world without nuclear weapons and for safe and resilient cities as essential to realizing lasting world peace. To view their new video, a 7-minute compilation of messages from 23 prominent nuclear abolitionists, and to help Mayors for Peace reach its goal of 10,000 member cities by the end of 2020, click here.
Iraq Update: Multiple Challenges to Justice, Peace, Democracy and Human Rights

Nine years after U.S. troops "left" Iraq, only to return many times to confront ISIS and the other predictable fallout of the ill-conceived U.S. policy to "democratize" Iraq, Iraq's national government fails to serve its people. A central issue is how the sectarian state, conceived and instituted by Paul Bremer has grown corrupt beyond measure. What Iraqi citizens might have created, had they not been silenced during the occupation, was a civil state, an uncorrupt government of qualified ministers that addressed the needs of Iraqi citizens for which they continue to struggle. Read more….
Black Alliance for Peace: Why We Say the U.S. Is Guilty of Crimes Against Humanity

Black Alliance for Peace National Organizer, Ajamu Baraka condemned U.S. impunity for crimes against humanity, not only for conduct outside its borders, but against people in the United States. He declared the decision to re-open the economy after thousands of African/Black people recently died as satisfying the definition of genocide. Read more….
Poor People's Jubilee Platform Launched; A Moral Agenda to Heal America

Following the June 20, 2020 digital Mass Poor People's Assembly and March on Washington that drew millions of viewers, the Poor People's Campaign: A National Call for Moral Revival held a well-attended Congressional briefing, on July 16, to demand a moral policy agenda. Legislators and other political leaders from both sides of the aisle were invited to attend the digital briefing, where campaign leaders laid out the specifics of their Moral Policy Agenda to Heal America: The Poor People's Jubilee Platform. Watch the July 16 Congressional briefing.
U.S. Conference of Mayors Calls for Human-Centered Security in a Time of Global Pandemic

At the close of its 88th Annual Meeting, held virtually due to the COVID-19 pandemic, on June 30, 2020, the United States Conference of Mayors unanimously adopted a sweeping resolution introduced by Vice-President of Mayors for Peace, Mayor Frank Cownie of Des Moines, Iowa and four co-sponsors, "Calling for Human-Centered Security in a Time of Global Pandemic." The new resolution calls on the President and Congress: to support UN Secretary-General Guterres' call for an immediate global ceasefire and international cooperation to address the COVID-19 pandemic; to reconceptualize security in human-centered terms, and to redirect funds currently allocated to nuclear weapons and unwarranted military spending, to support safe and resilient cities and meet human needs; and to actively pursue a verifiable agreement among nuclear armed states to eliminate their nuclear arsenals. Read more….
The Power of the Pen

UFPJ regularly signs onto letters initiated by other groups dealing with a broad range of important peace and justice issues. In July, UFPJ joined 70 organizations from across the country, representing millions of people, on a letter to the leadership of the House Foreign Affairs Committee to demand that the Democratic Caucus elect a chair who will lead the committee in advancing a vision of restraint and progressive realism in U.S. foreign policy. Also this month, UFPJ joined 30 organizations signing a letter in support of three priority amendments to the National Defense Authorization Act: to cut overall defense spending by 10%; to establish a policy framework for U.S. troop withdrawal from Afghanistan; and to prohibit funds for nuclear testing.
UFPJ is a diverse network of peace and justice organizations. If your organization is interested in joining UFPJ, read our Unity Statement, and if it is consistent with your principles click here to join.
Please donate to help us continue sending out "UFPJ Currents" to our members and supporters. And THANK YOU for all your work for peace and justice!