Cast your vote for peace!**
Hey,
The peaceful revolution that we want requires both the dismantling of the war machine and, at the same time, the growth of local peace economies. What we're talking about is a shift in values, from extractive capitalism to sustainability, peace, and justice. 
Along with being World BEYOND War's Organizing Director, I'm also a co-founder of Unadilla Community Farm, a living example of a local peace economy being built from the ground up. Cast your vote to help us win the #CultivatingChange grant, so we can revolutionize our irrigation system and make it 100% fossil fuel free! Situated on 12 acres, we're forming an off-grid intentional community and permaculture education center, to showcase organic & sustainable agriculture, natural building, and cooperative economics. 

The Cultivating Change grant will help fund our rainwater catchment and solar pump irrigation system. You can vote for our project every day from now to January 31, so please vote now and bookmark the link to vote again the next day, and the next day, until the end of the month.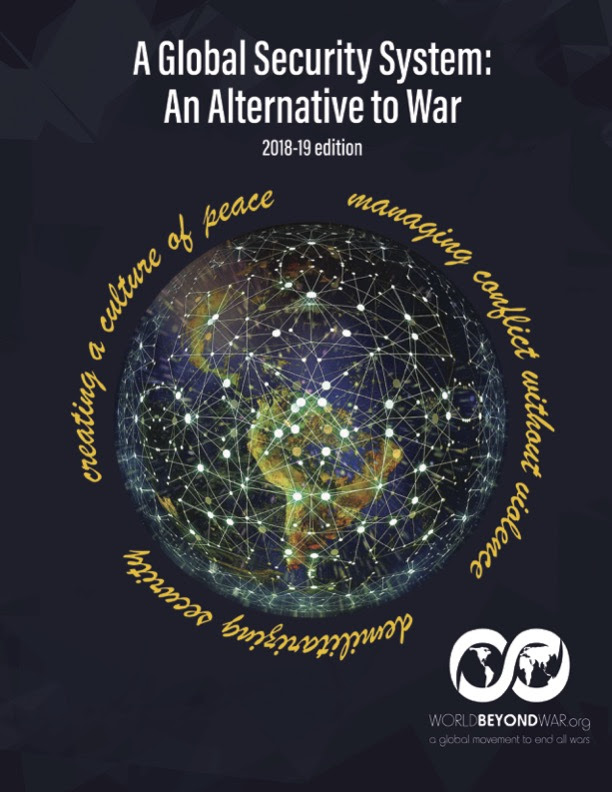 Community-based projects like Unadilla Community Farm are part of the response to the corporate-controlled war machine. The second part is the development of strategies to demilitarize, manage conflict nonviolently, and establish new cultural norms for peace. A Global Security System: An Alternative to War is World BEYOND War's blueprint for peace, laying out these key tactics needed for the transition. Download your copy here. 
We're putting these strategies into practice on April 3-4, as we converge on Washington, DC to unwelcome NATO's arrival. Join me and the WBW crew on April 3 for a vegan peace fest to call for the abolition of NATO, the redirection of resources to human and environmental needs, and the demilitarization of our cultures. 
We'll munch on vegan food, make art, boogie down to live music, and hear from keynote speakers like comedian & activist Lee Camp, with nonviolence protest training provided by Nadine Bloch of Beautiful Trouble, in preparation for big demonstrations the next day, April 4, outside NATO's meeting. Instead of celebrating NATO's 70th anniversary, we're celebrating peace, in commemoration of Martin Luther King Jr.'s speech against war on April 4, 1967, as well as his assassination on April 4, 1968. RSVP here!
Onward together,
Greta Zarro
Organizing Director
World BEYOND War
greta@worldbeyondwar.org
---
World BEYOND War is a global network of volunteers, activists, and allied organizations advocating for the abolition of the very institution of war. Our success is driven by a people-powered movement – 
support our work for a culture of peace.
World BEYOND War PO Box 1484 Charlottesville, VA 22902 USA
Privacy policy.
Checks must be made out to "World BEYOND War / AFGJ" or we can't deposit them.