Having trouble viewing this email? Click here to view an online version.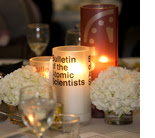 Join the Conversation
Join us November 8, 2018 for the Annual Dinner & Meeting, an event that combines the Bulletin's signature evening celebration with an afternoon set of discussions led by our Science and Security Board and other recognized experts.
The Atomic Cafe
Join the Bulletin and friends on September 23rd at the Gene Siskel Film Center for a viewing of cult-classic The Atomic Cafe. The evening includes a pre-show reception and a post-movie discussion with filmmaker Jayne Loader, Bulletin president & CEO Rachel Bronson, and Bulletin nonresident senior fellow Stephen Schwartz.
Welcoming Halley Posner
The Bulletin welcomes Halley Posner as the new financial coordinator. Posner is a recent graduate of Bates College where she focused on nuclear weapons policy, specifically in the Asian theater . While at Bates, she was the editor-in-chief of the student-run newspaper and interned for the Center for International Policy.


Copyright © 2018 Bulletin of the Atomic Scientists
All Rights Reserved I Email: newsletter@thebulletin.org
Don't miss an email! Please add newsletter@thebulletin.org to your address book.