Published: Sunday 20 April 2014
A recent U.K. Parliamentary report highlights that 15 million tons of food is wasted in Britain every year. Indicative of a broader problem, the same report tells how the European union wastes 89 million tons while rich countries dispose of nearly the same amount that all of sub-Saharan Africa is able to grow.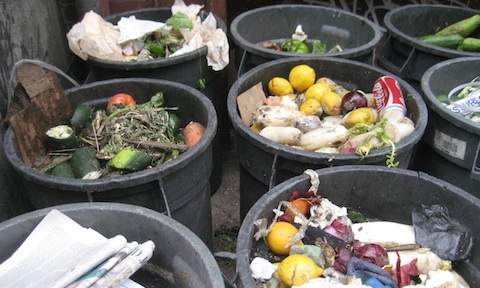 "Economics of the majority begins with the most fundamental premise: resources lie idle and economics has the task of explaining that idleness, then proposing public policies to end the waste of human skill and productive wealth," John Weeks asserts in the conclusion to his recently published book, Economics of the 1%: How Mainstream Economics Serves the Rich, Obscures Reality and Distorts Policy. His approach comprehensively undermines neoclassical economics, which he terms "fakeconomics" – a pseudo-science based on false assumptions, which hold that markets are efficient and resources are never wasted.
In his sharp final section, Weeks alludes to an incomplete project for the 21st century: economics for the 99%. To explore this, specific necessities of life deserve further focus – especially as society continues to waste resources that could alleviate poverty and stop unnecessary deaths. Among the critical points, shelter and food are two human requirements that have hit headlines recently in Britain for being wasted and rotting beyond use.
Free Market Capitalism and the Scale of Food Waste
A recent U.K. Parliamentary report highlights that 15 million tons of food is wasted in Britain every year. Indicative of a broader problem, the same report tells how the European union wastes 89 million tons while rich countries dispose of nearly the same amount that all of sub-Saharan Africa is able to grow.
The United Nations Environment Program suggests a third of all food globally goes to waste. Globally, more than one in 10 people suffer hunger, meaning the scale of free markets' food waste is not only causing poverty – it actually kills. A disaster whose largest impact is felt on the majority world, it is nonetheless more and more affecting the minority world as inequality spirals. For instance, in Britain, the food crisis has led to church leaders speaking out on continuing austerity policies.
Why is so Much Food Wasted?
Reading different mainstream news reactions to the report, blame has been apportioned in part to the supermarkets for selling consumers food they do not need with buy-one-get-one-free offers, and for penalizing growers for undersupplying them; this encourages oversupply. Culpability is also pointed at the food industry itself, which spends billions each year persuading people "what food should look like" so that only aesthetically pleasing food reaches the shelves.
Legally Enforcing Waste
Anyone who has ever gone "skipping," or "dumpster diving," knows that shops regularly throw out masses of perfectly edible food. For some, this is solely a source of nourishment; for others it is an ethical decision to choose "freeganism". By stopping so much food heading to landfill, you not only leave more for everyone else – but from a climate perspective, you're helping prevent more methane from rotting food becoming greenhouse gas emissions.
Yet this ecological and socially beneficial solution is criminalized. Locks and chains "protect" the garbage on our streets. There have even been recent cases of police arresting those who want to use the idle produce. In an instance three years ago, it even led to criminal convictions for theft.
A food waste solution based on freegan principles involves shops giving away food to charity feeding projects. A successful example is the Hare Krishna project Food For All. Using donated food, Food For All feeds over 1,000 people per day across London, including homeless people and students. The food combines with other work that aims to empower homeless people, providing opportunities such as music lessons and volunteering opportunities.
But schemes like these are also under attack from UK authorities. Earlier this year, it took a high court ruling to overturn a decision to ban a soup kitchen from the London borough of Waltham Forest Council. That is why, for an economics of the 99%, we need to understand efficiency as not dumping food – rather than making maximum profits on beautifully shaped cucumbers.
Assets or Homes? Empty Buildings in the Free Market
The inefficiency of the market that wastes food echoes in Britain's empty buildings. In the UK, 870,000 potential homes lie idle with a further 420,000 potential homes in abandoned commercial buildings that could be converted to housing. The owners, of course, have homes that are called investments. Recent revelations show that a third of mansions lay empty in the second most expensive street in Britain.
Its billion-pound plus properties have been shown to be rotting to decay for years, some for decades. These idle resources contribute greatly to Britain's housing crisis, where not enough affordable homes are available, leading to a sharp increases in homelessness particularly in the capital.
More broadly across society, the reduction in used homes allows higher prices to be charged for potential first time buyers and those who are renting. But the inflating housing bubble also endangers the economy: the latest IMF report tells how Britain's recovery is based largely on the housing sector, which has been supported by government incentives like mortgage subsidies that have largely been used to buy expensive homes, according to the Office for Budget Responsibility.
Those buying houses as assets include foreign investors, attracted to put money into housing which is seen as a lucrative investment because of the weak taxation on foreign-owned UK property. The Economist reports London house prices rose 11% last year. The same article shows what Weeks might define as fakeconomics anti-logic: The Economist celebrates that the investment is good for the property market despite that it will adversely affect the majority. It propels the fakeconomics myth: that markets benefit people.
There are many measures the government could take to stop homes being used as idle assets. These include a progressive tax on houses or second homes, a mansion tax or a land value tax. Within all these taxes, there is plenty of scope to progressively tax the richest to reduce the inequality in access to housing.
Squatting derelict buildings, like skipping waste food, is one citizen-led solution that immediately utilizes these rotting resources while often providing the homeless a form of shelter, as well as independent community and organizing spaces. Similar to skipping, the UK government has cracked down on the practice; in 2012, it repealed squatters' rights to recycle residential buildings.
In a report on the impact of the criminalization of squatting in commercial buildings, the campaign group SQUASH presented evidence showing the law to be "undemocratic, unjust, unnecessary and unaffordable."
Since, there have been moves from other Minsters of Parliament to criminalize all squatting. Interestingly these MPs emerge clearly in the pay of luxury housing developers and property magnets – superrich people who have an interest in keeping buildings empty so as to drive up prices.
Squatting, like skipping, leads toward an economic policy that makes housing for the 99% affordable. Just as society could be directed not to waste food, it makes sense for there to be a maximum time that a property may lay idle before it is given to those in need.